CA Intermediate Classes in Pune

Join Our Best CA Intermediate Coaching Classes in Pune
Get ready to kickstart your career with our experts. Empower yourself with knowledge and skills from our best
CA Inter
upcoming batches!
CA Intermediate Faculties
CA Intermediate G1 Faculties
CA Intermediate G2 Faculties
CA Intermediate Coaching Classes for Nov 2023/ May 24 Attempts!
Do you want to know more about the CA Inter classes in Pune, including how to register, who qualifies, and what the course will cover? If so, you've come to the right place since we'll give you all the information you need regarding the CA Inter classes in Pune 2023.
In our CA Inter classes in Pune, students will be taught by qualified instructors in Pune, and their creative teaching strategies will make it easier for them to comprehend the ideas. As stated in our tagline, "Professional Makes Future Professional is redefined," we educate our students not only for exams but also for their entire career in life, which they will encounter in the real world.
Professional associations called Chartered Accountants deal with almost every facet of finance, such as taxation, auditing, and company economics. The position of a chartered accountant has grown increasingly demanding and difficult in the contemporary environment as a result of the adoption of the GST, demonetization, and numerous other regulatory measures affecting the general population.
When studying for the CA course, ICAI has made Intermediate the first stage in getting in-depth knowledge of several Financial and Accounting difficulties.
Agrawal Sessions offers the Best CA Inter Classes in Pune at reasonable rates with top-notch instructors who will lead sessions using the most recent curriculum and offer solutions and clear up any issues using top-notch techniques. Groups 1 and 2 make up the CA Intermediate exam, the second-level test for the Chartered Accountancy Course. Candidates can choose to participate in one of these groups. The national-level CA Intermediate test is given offline twice a year by the Institute of Chartered Accountants of India (ICAI), in May/June and November/December.
The CA Inter classes in Pune are thought of as Chartered Accountancy's second-level course. CA Inter classes in Pune is another name for it. Before registering for the CA Inter exam, a candidate must pass the CA Foundation exam. The ICAI also administers this exam. The CA Inter classes in Pune are divided primarily into two groups, with four subjects in each group. To pass the group, a candidate must be eligible for all four papers. Because failure in any one subject could lead to failure across the board. Therefore, to qualify as a group, the Candidate must qualify in each of the four subjects separately.
Why to Choose CA Inter Classes from Agrawal Classes?
A successful organisation like Agarwal Classes can only function well after careful planning and strategy execution. The founders, Prof. Ritesh Agrawal and Prof. Anagha Agrawal are strongly motivated to achieve progressive results, which invigorates their staff to educate to the best of their abilities and provide an engaging learning atmosphere. For CA Inter classes in Pune, Agarwal Classes offers a group of enthusiastic mentors. 
Only with careful planning and strategy in place can a successful business operate without hiccups. The founders, Prof. Ritesh Agrawal and Prof. Anagha Agrawal are driven to advance their aims, and this motivation motivates their employees to provide the greatest instruction and foster an engaging learning environment.
You've found the ideal place if you're looking for CA Inter Classes in Pune. Although becoming a CA pays handsomely, passing the exam requires extensive study. You will have access to the Best CA Intermediate Coaching in India through this platform.
CA Intermediate Eligibility Criteria
Candidates who have passed the foundation level with a grade point average of 50% or higher

Candidates who have passed the CPT exams with a minimum of 50%.

Candidates who have taken IPCC tests but were unable to pass them

Graduate/Postgraduate with a 55% in commerce and a 60% in another stream

Students of The Institute of Cost Accountants of India or The Institute of Company Secretaries of India who have passed the intermediate-level examination

Students doing their last year of graduation exams can apply under the provisional program.
Candidates must register for the CA Intermediate Course via both routes by completing the Online CA Intermediate/New IPCC Registration Form, which is available on the ICAI website (www.icai.org).
Significant changes are anticipated in CA Intermediate Accounting and Auditing with the implementation of a code of conduct in CA Inter Auditing.
| | | |
| --- | --- | --- |
| CA Intermediate | Subjective | Objective |
| Paper 1 :Advance Accounting | 70 Marks | 30 Marks |
| Paper 2 :Corporate Laws | 70 Marks | 30 Marks |
| Paper 3 :Cost and Management Accounting | 70 Marks | 70 Marks |
| Paper 4 :Taxation | 70 Marks | 30 Marks |
| Paper 5 :Auditing and Code of Ethics | 70 Marks | 30 Marks |
| Paper 6 :Financial Management | 35 Marks | 15 Marks |
| Paper 6 :Strategic Management | 35 Marks | 15 Marks |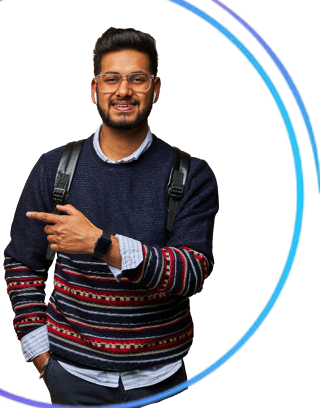 CA Intermediate Demo Lectures
Best CA Intermediate Classes in Pune
CA Intermediate Passing Criteria 2023
CA Intermediate Papers
Paper-wise Qualifying Percentage
Overall Passing Percentage
Appearing in One Group
Appearing in Both Groups
Paper 1
40%
50%
50%
Paper 2
40%
Paper 3
40%
Paper 4
40%
Paper 5
40%
50%
Paper 6
40%
Paper 7
40%
Paper 8
40%
As you can see, the total amount required to clear your CA inter is 50%. As a result, you should begin focusing on obtaining this %. As previously stated, rather than simply memorizing concepts, strive to understand and learn them. 
The enormous hostility around the pass percentage often dissuades many students. Peers, neighbors, instructors, and even parents can make the process much more difficult for pupils by not encouraging them in the correct way.
If you are worried about the impending CA inter-test, rest assured that it is not an insurmountable undertaking. In truth, some of the top All India Rankers (AIRs) have also struggled, but they have excelled because they have worked so hard to obtain these positions.
You should also focus on working hard, and we are confident that you will pass your tests.
Heartiest Congratulations to the CA INTERMEDIATE Students on Your Achievement !
Students Google Reviews
Best CA Intermediate Coaching in India
The best class for CA,CS,CMA out there,currently I'm preparing for CSEET here and the faculty is very skilled,experienced,highly educated and friendly too. I highly recommend this class for someone who wants to become a professional.
Best CA,CS,CMA classes in Pune. Faculty is well educated.
I am studying in Agarwal classes for CSEET course. All the faculty is excellent and friendly. Best classes for commerce courses like CA, CS, CMA. My confidence and hope for becoming a CS has increased after joining Agarwal classes.
It's the best Acdmey for Commerc as well as for CA.. Cool place atmosphere. It's prefect CA Cs cma classes
Best coaching for CA aspirants.not just best in pune but also in india.
After taking admission in CA foundation in Agarwal classes I thought that I should also suggest my friends to take admission in Agarwal classes. Best class
amazing teachers!! i loved the environment here, I'm currently doing CA foundation with Agrawal classes.. personal attention given to all students, hw is regularly checked, topic wise n weekly tests... comfortable classroom. friendly office staff... books, charts are best content wise.. highly recommended!
Anushka Havnur
2023-05-05
Very attentive professors, even during online classes. Awesome experience to be a student of Agarwal classes.
Richa Coutinho
2023-05-05
Experience so far has been good. The faculty are always helpful and encouraging.
Ashwini Kemble
2023-05-05
I have been attending maths & account class was nice experience learn also score good marks The faculty really put good effort to understand basic concepts is really helped me I also suggested one of friend to join Agrawal classes after few days he shared his experience is was good his all basics were clear by faculty in proper understandable way..
Our Key Features

Frequently Asks Question's